3.27: Selecting Text and Applying Effects
Last updated
Page ID

14741
\( \newcommand{\vecs}[1]{\overset { \scriptstyle \rightharpoonup} {\mathbf{#1}} } \) \( \newcommand{\vecd}[1]{\overset{-\!-\!\rightharpoonup}{\vphantom{a}\smash {#1}}} \)\(\newcommand{\id}{\mathrm{id}}\) \( \newcommand{\Span}{\mathrm{span}}\) \( \newcommand{\kernel}{\mathrm{null}\,}\) \( \newcommand{\range}{\mathrm{range}\,}\) \( \newcommand{\RealPart}{\mathrm{Re}}\) \( \newcommand{\ImaginaryPart}{\mathrm{Im}}\) \( \newcommand{\Argument}{\mathrm{Arg}}\) \( \newcommand{\norm}[1]{\| #1 \|}\) \( \newcommand{\inner}[2]{\langle #1, #2 \rangle}\) \( \newcommand{\Span}{\mathrm{span}}\) \(\newcommand{\id}{\mathrm{id}}\) \( \newcommand{\Span}{\mathrm{span}}\) \( \newcommand{\kernel}{\mathrm{null}\,}\) \( \newcommand{\range}{\mathrm{range}\,}\) \( \newcommand{\RealPart}{\mathrm{Re}}\) \( \newcommand{\ImaginaryPart}{\mathrm{Im}}\) \( \newcommand{\Argument}{\mathrm{Arg}}\) \( \newcommand{\norm}[1]{\| #1 \|}\) \( \newcommand{\inner}[2]{\langle #1, #2 \rangle}\) \( \newcommand{\Span}{\mathrm{span}}\)\(\newcommand{\AA}{\unicode[.8,0]{x212B}}\)
Learning Objectives
How to select text within a document coupled with how to apply commonly used effects such as bold, font types, etc. onto the selected text.
Selecting Text
If you want to select a text you have to:
Move insertion point to the word that you want to select
left click in the mouse and select the wanted text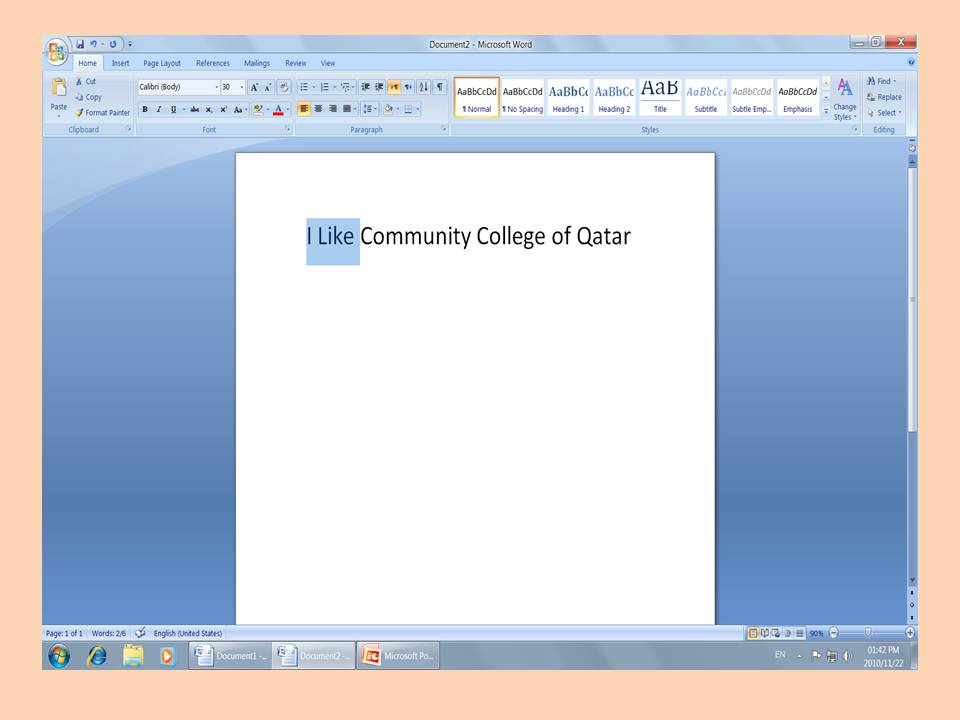 Applying Effects
If you want to apply effect in your text:-
From the font box which is placed in home tab you can apply effects in your text such as, font, size, bold, underlined, italic …
You have to select the text, and then press the icon that you desire.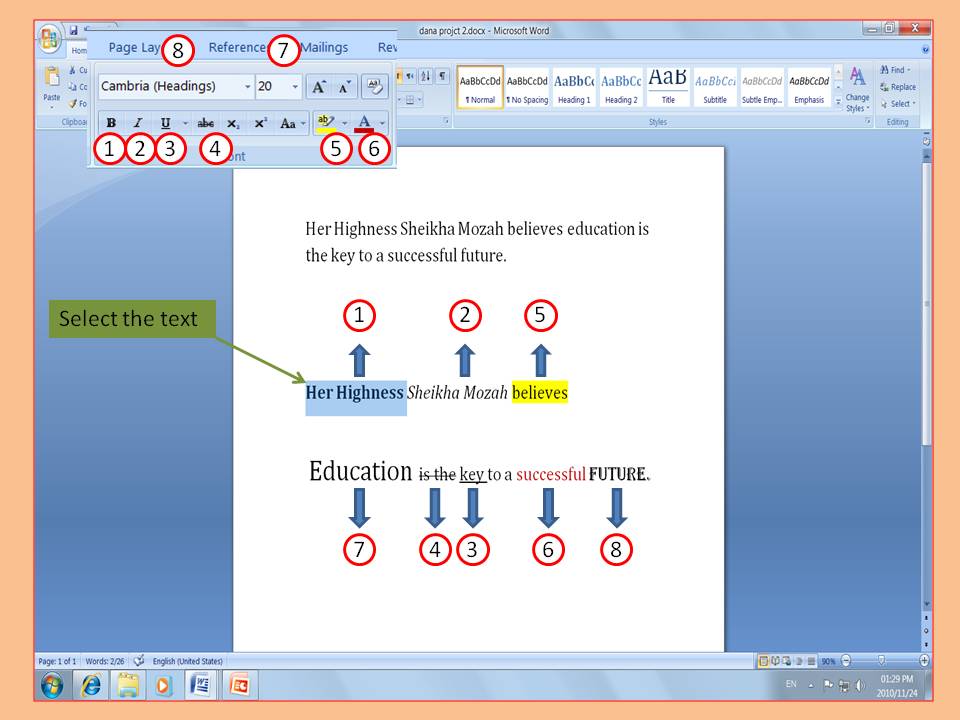 The explanations for these numbers are:-
Bold: to make your type apper like this.
Italic: to make your type face curve or (bend) to the right like this.
Underline: to make a line below your text Like this.
Strikethrough: to cross the text or make a line at the middle of the text.
Highlight color: to highlight a text.
Font color: to change the font color.
Font size: to change the text size.
Font: to change the font hand writing or style.