8.11: Inserting SmartArt
Last updated
Page ID

14349
\( \newcommand{\vecs}[1]{\overset { \scriptstyle \rightharpoonup} {\mathbf{#1}} } \) \( \newcommand{\vecd}[1]{\overset{-\!-\!\rightharpoonup}{\vphantom{a}\smash {#1}}} \)\(\newcommand{\id}{\mathrm{id}}\) \( \newcommand{\Span}{\mathrm{span}}\) \( \newcommand{\kernel}{\mathrm{null}\,}\) \( \newcommand{\range}{\mathrm{range}\,}\) \( \newcommand{\RealPart}{\mathrm{Re}}\) \( \newcommand{\ImaginaryPart}{\mathrm{Im}}\) \( \newcommand{\Argument}{\mathrm{Arg}}\) \( \newcommand{\norm}[1]{\| #1 \|}\) \( \newcommand{\inner}[2]{\langle #1, #2 \rangle}\) \( \newcommand{\Span}{\mathrm{span}}\) \(\newcommand{\id}{\mathrm{id}}\) \( \newcommand{\Span}{\mathrm{span}}\) \( \newcommand{\kernel}{\mathrm{null}\,}\) \( \newcommand{\range}{\mathrm{range}\,}\) \( \newcommand{\RealPart}{\mathrm{Re}}\) \( \newcommand{\ImaginaryPart}{\mathrm{Im}}\) \( \newcommand{\Argument}{\mathrm{Arg}}\) \( \newcommand{\norm}[1]{\| #1 \|}\) \( \newcommand{\inner}[2]{\langle #1, #2 \rangle}\) \( \newcommand{\Span}{\mathrm{span}}\)\(\newcommand{\AA}{\unicode[.8,0]{x212B}}\)
Like WordArt, SmartArt is a cross-application feature that adds appeal, design and intrigue to an Office file. A SmartArt graphic is a professional-quality diagram that visually illustrates text using a variety of shapes. Like WordArt, a SmartArt graphic can be created from scratch or text can be converted with a few simple clicks. Converting a
bulleted list to a SmartArt list is very easy! To create a SmartArt diagram from scratch, click the icon on the Insert tab. A gallery of graphics will appear.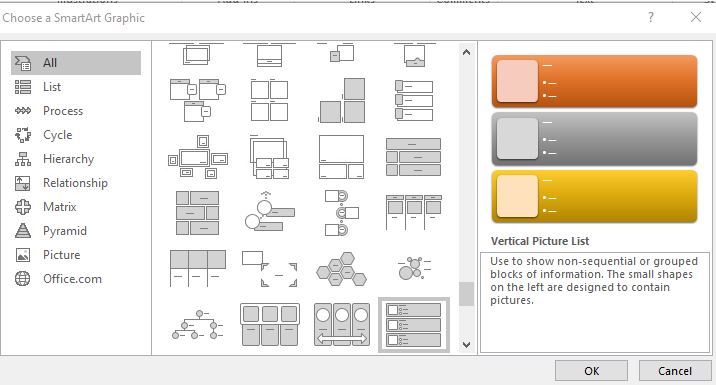 Users can choose from among many different layouts to effectively communicate a complex concept. Categories range from process and cycle diagrams to list and relationship graphics. Choosing the appropriate graphic is key, because some of these diagrams are complex, and therefore, can be more confusing than informative. Other considerations when choosing to use a SmartArt graphic include the amount of text that will be included with the shapes versus the amount of legible space available on a slide. Too many shapes can easily overcrowd a slide to the point that it is illegible. Users can quickly and easily switch layouts, so try different layouts (across types) until you find the one that best illustrates your message.
After selecting a SmartArt graphic, the diagram will replace the content placeholder of the slide. New [Text] placeholders will appear to allow the user to customize the diagram. Alternatively, a Text pane should appear to the left of the graphic to ease the insertion of text. If the pane does not automatically appear, click the arrow control on the left size of the SmartArt graphic.
After adding text, and possibly photos, additional formatting is available from the SmartArt Tools contextual Design and Format tabs. The Change Colors and SmartArt Styles options offer radical format changes. A SmartArt style is a preset combination of numerous effects, such as line style, bevel, or 3-D, which can be applied to a SmartArt graphic to create a unique and professional design.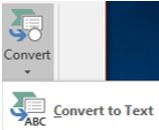 To create a SmartArt graphic from existing text on a slide, place the cursor inside the text, click the Convert button from the SmartArt Tools Design tab, and then choose the Convert to Text option. This is a great way to liven up basic bulleted lists to eye-popping information!