9.3: Adding and Modifying Audio
Last updated
Page ID

14272
\( \newcommand{\vecs}[1]{\overset { \scriptstyle \rightharpoonup} {\mathbf{#1}} } \) \( \newcommand{\vecd}[1]{\overset{-\!-\!\rightharpoonup}{\vphantom{a}\smash {#1}}} \)\(\newcommand{\id}{\mathrm{id}}\) \( \newcommand{\Span}{\mathrm{span}}\) \( \newcommand{\kernel}{\mathrm{null}\,}\) \( \newcommand{\range}{\mathrm{range}\,}\) \( \newcommand{\RealPart}{\mathrm{Re}}\) \( \newcommand{\ImaginaryPart}{\mathrm{Im}}\) \( \newcommand{\Argument}{\mathrm{Arg}}\) \( \newcommand{\norm}[1]{\| #1 \|}\) \( \newcommand{\inner}[2]{\langle #1, #2 \rangle}\) \( \newcommand{\Span}{\mathrm{span}}\) \(\newcommand{\id}{\mathrm{id}}\) \( \newcommand{\Span}{\mathrm{span}}\) \( \newcommand{\kernel}{\mathrm{null}\,}\) \( \newcommand{\range}{\mathrm{range}\,}\) \( \newcommand{\RealPart}{\mathrm{Re}}\) \( \newcommand{\ImaginaryPart}{\mathrm{Im}}\) \( \newcommand{\Argument}{\mathrm{Arg}}\) \( \newcommand{\norm}[1]{\| #1 \|}\) \( \newcommand{\inner}[2]{\langle #1, #2 \rangle}\) \( \newcommand{\Span}{\mathrm{span}}\)\(\newcommand{\AA}{\unicode[.8,0]{x212B}}\)
An audio file can be added to a slide and played during a slide show. Audio files can be music, voice narration, or sound bites. To record and hear any audio, the computer must be equipped with a sound card, microphone, and speakers. Typical audio file formats include .mp4, .mp3, .wav, and .wma files. To insert a multimedia file (audio, video or screenshot), click the Media button on the Insert tab.
When a sound file is inserted, a sound icon
is added to the slide and the Audio Tools contextual tab appears to provide options to format how the audio plays on a slide.
After the audio file is inserted, and a sound icon appears on a slide, several formatting decisions should be addressed regarding how the audio sounds during playback. The sound can be previewed by clicking the Play/Pause button in the Audio Control Bar.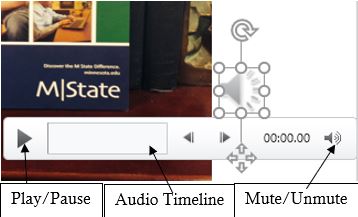 The Audio Timeline can be dragged to the left or right to advance the audio to the desired start location. If hiding the icon from displaying on screen during Slide Show View is desired, clear the Hide During Show checkbox in the Audio Options group. If the audio file is hidden during playback, the Start drop-down list selection should be set to Automatically, since the On Click option is only available if the icon is visible so it can be clicked. The Play Across Slides option is great is the file is long enough to play as background music for many slides. This is a popular choice to complement photo albums.