2.11: Utilizing WordArt and SmartArt
Last updated
Page ID

14293
\( \newcommand{\vecs}[1]{\overset { \scriptstyle \rightharpoonup} {\mathbf{#1}} } \) \( \newcommand{\vecd}[1]{\overset{-\!-\!\rightharpoonup}{\vphantom{a}\smash {#1}}} \)\(\newcommand{\id}{\mathrm{id}}\) \( \newcommand{\Span}{\mathrm{span}}\) \( \newcommand{\kernel}{\mathrm{null}\,}\) \( \newcommand{\range}{\mathrm{range}\,}\) \( \newcommand{\RealPart}{\mathrm{Re}}\) \( \newcommand{\ImaginaryPart}{\mathrm{Im}}\) \( \newcommand{\Argument}{\mathrm{Arg}}\) \( \newcommand{\norm}[1]{\| #1 \|}\) \( \newcommand{\inner}[2]{\langle #1, #2 \rangle}\) \( \newcommand{\Span}{\mathrm{span}}\) \(\newcommand{\id}{\mathrm{id}}\) \( \newcommand{\Span}{\mathrm{span}}\) \( \newcommand{\kernel}{\mathrm{null}\,}\) \( \newcommand{\range}{\mathrm{range}\,}\) \( \newcommand{\RealPart}{\mathrm{Re}}\) \( \newcommand{\ImaginaryPart}{\mathrm{Im}}\) \( \newcommand{\Argument}{\mathrm{Arg}}\) \( \newcommand{\norm}[1]{\| #1 \|}\) \( \newcommand{\inner}[2]{\langle #1, #2 \rangle}\) \( \newcommand{\Span}{\mathrm{span}}\)\(\newcommand{\AA}{\unicode[.8,0]{x212B}}\)
Another desktop publishing tool that adds pizzazz to a drab document is the use of WordArt or SmartArt.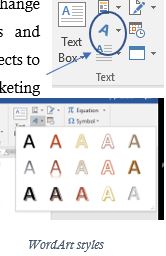 WordArt is a drawing object with special effects that change the appearance of text by formatting special shapes, patterns and orientations. WordArt can be used to add color, outlines and 3-D effects to regular text. Common usage is titles for papers, posters or other marketing materials. Click the WordArt button in the Text group of the Insert tab. After selecting an initial WordArt style, a placeholder box will appear and await your input of text.

Once inserted, a contextual tab offers numerous to change the effects of the WordArt object. Additional formatting options available include change the text fill, outline or text effects of the WordArt object. The Text Effects offer some exciting ways to rotate and transform the text. The best way to learn about these features is to experiment with them!
SmartArt are diagrams that illustrate concepts and show relationships between elements. Think of SmartArt as pre-made drawing canvases that you can insert into your document and then customize as you see fit. There are a variety of styles to choose from, which you can use to illustrate many different types of ideas. Simply pick an arrangement, such as a list, process, cycle, etc. Insert the SmartArt via the Illustrations group on the Insert tab, which opens the SmartArt dialog window.
After choosing a layout, a SmartArt placeholder will appear. In a SmartArt graphic, elements are represented by shapes. Each shape can have text applied, be resized and re-positioned. You can even add, delete, promote and demote shapes via the text pane or the contextual tab.
A SmartArt graphic can be formatted and edited using options on the contextual SmartArt Tools Design and Format tabs. The Design tab allows the user to pick from numerous layouts, styles and colors. The Format tab provides choices for shape styles and WordArt options. SmartArt can be utilized throughout the Microsoft Office suite of applications. Again, the best way to learn about these options is to experiment!