8.8: Creating a Photo Album
Last updated
Page ID

14346
\( \newcommand{\vecs}[1]{\overset { \scriptstyle \rightharpoonup} {\mathbf{#1}} } \) \( \newcommand{\vecd}[1]{\overset{-\!-\!\rightharpoonup}{\vphantom{a}\smash {#1}}} \)\(\newcommand{\id}{\mathrm{id}}\) \( \newcommand{\Span}{\mathrm{span}}\) \( \newcommand{\kernel}{\mathrm{null}\,}\) \( \newcommand{\range}{\mathrm{range}\,}\) \( \newcommand{\RealPart}{\mathrm{Re}}\) \( \newcommand{\ImaginaryPart}{\mathrm{Im}}\) \( \newcommand{\Argument}{\mathrm{Arg}}\) \( \newcommand{\norm}[1]{\| #1 \|}\) \( \newcommand{\inner}[2]{\langle #1, #2 \rangle}\) \( \newcommand{\Span}{\mathrm{span}}\) \(\newcommand{\id}{\mathrm{id}}\) \( \newcommand{\Span}{\mathrm{span}}\) \( \newcommand{\kernel}{\mathrm{null}\,}\) \( \newcommand{\range}{\mathrm{range}\,}\) \( \newcommand{\RealPart}{\mathrm{Re}}\) \( \newcommand{\ImaginaryPart}{\mathrm{Im}}\) \( \newcommand{\Argument}{\mathrm{Arg}}\) \( \newcommand{\norm}[1]{\| #1 \|}\) \( \newcommand{\inner}[2]{\langle #1, #2 \rangle}\) \( \newcommand{\Span}{\mathrm{span}}\)\(\newcommand{\AA}{\unicode[.8,0]{x212B}}\)
If your presentation's purpose is more slanted towards entertaining versus educating, then a photo album is a popular feature that might facilitate that entertainment. PowerPoint's photo album allows users to load a bunch of digital photos into a single file, one photo per slide, formatted consistently, with a variety of formatting options. Photo album is a great tool for creating self-running presentations that display photos from an event or a family memory (graduation, wedding anniversary, funeral, etc.) PowerPoint creates a new presentation file when a user chooses to create a photo album.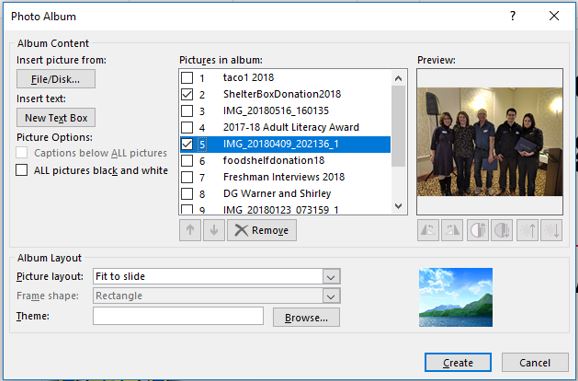 To start, take note of where the photos you want for the album are located (preferably on a local device). Then go to the Insert tab and click the Photo Album button. Once the Photo Album window opens, the next step is to insert the pictures from your device by clicking the File/Disk… button. The Insert New Pictures dialog window will appear. The user should then navigate to where the photo files reside on their device, then select multiple picture files (remember to use the Ctrl button to select multiple non-consecutive files) and choose Insert. The selected files will appear in the Pictures in Album scrolling-window in the Photo Album window. The order of the slides can be rearranged in this window or in the main PowerPoint window.
The more important decisions that should be determined before clicking the Create button pertain to the Album Layout and Picture Options. Notice how the Captions below ALL pictures option is disabled? This is due to the Picture layout currently being set to the Fit to Slide option. Choosing any other Picture layout will enable this option. Captions are a great way to add accompanying text to each slide in the album and provide explanation for the photos when no presenter is present. If this feature is skipped and needs reversing, choose the Insert tab, click the Photo Album drop down arrow, and select Edit Photo Album. The picture layout, frame shape, theme and picture options can all be redefined, and pictures can be added or deleted as well. The Insert Text Box is an alternative way to add manually add text to a separate slide versus the captions, which defaults with the operating system's file name as the slide caption. This data can be edited for each slide via the normal PowerPoint view. Photo albums can become even more entertaining when additional (yet to be explained) functionality is added. However, these features, which demand a lot of creative attention, can become very time-consuming! The Photo Album feature was designed to work with the Windows operating system. Therefore, this feature is not available for Mac users.