8.13: Apply Design Themes
Last updated
Page ID

14351
\( \newcommand{\vecs}[1]{\overset { \scriptstyle \rightharpoonup} {\mathbf{#1}} } \) \( \newcommand{\vecd}[1]{\overset{-\!-\!\rightharpoonup}{\vphantom{a}\smash {#1}}} \)\(\newcommand{\id}{\mathrm{id}}\) \( \newcommand{\Span}{\mathrm{span}}\) \( \newcommand{\kernel}{\mathrm{null}\,}\) \( \newcommand{\range}{\mathrm{range}\,}\) \( \newcommand{\RealPart}{\mathrm{Re}}\) \( \newcommand{\ImaginaryPart}{\mathrm{Im}}\) \( \newcommand{\Argument}{\mathrm{Arg}}\) \( \newcommand{\norm}[1]{\| #1 \|}\) \( \newcommand{\inner}[2]{\langle #1, #2 \rangle}\) \( \newcommand{\Span}{\mathrm{span}}\) \(\newcommand{\id}{\mathrm{id}}\) \( \newcommand{\Span}{\mathrm{span}}\) \( \newcommand{\kernel}{\mathrm{null}\,}\) \( \newcommand{\range}{\mathrm{range}\,}\) \( \newcommand{\RealPart}{\mathrm{Re}}\) \( \newcommand{\ImaginaryPart}{\mathrm{Im}}\) \( \newcommand{\Argument}{\mathrm{Arg}}\) \( \newcommand{\norm}[1]{\| #1 \|}\) \( \newcommand{\inner}[2]{\langle #1, #2 \rangle}\) \( \newcommand{\Span}{\mathrm{span}}\)\(\newcommand{\AA}{\unicode[.8,0]{x212B}}\)
The most significant way to add visual impact to a PowerPoint presentation is to apply a design theme. A design theme is a named combination of formats that comprise of colors, fonts, backgrounds, and other effects. Themes exist throughout Microsoft Office so that files created in one application tie together with files created in other Office applications. While the default Office theme is plain and boring, users can choose from a gallery of other themes to give the presentation a new look and feel. To change the theme, select a theme from the Themes group on the Design tab. More themes are available by clicking the More button.
Hover over a theme thumbnail to see the theme name. It's also easy to quickly change the look and feel of a theme by using variants in PowerPoint. Each theme has its own Variants that apply some predefined color and effect variations. Variants appear to the right of the themes in the Design tab. Variants can be further customized by clicking the More button to modify the theme colors, fonts, effects or background styles. To further customize a design theme, it is easy to apply a new variant while everything else about the theme remains the same.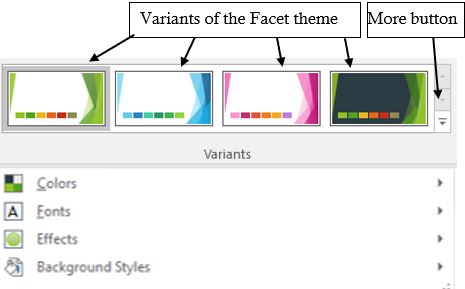 Many organizations have a standard, recognizable theme that should be consistently used to follow the organization's branding standards. While a theme can be applied to individual slides, it is advisable to apply one theme to an entire presentation, which creates a uniform, professional look.